The past five years sure have flown by. It's hard to believe the baby of our family is no baby anymore. Emidio Nicholas was born five years ago today and it feels like just yesterday we were putting that tiny baby in the car and driving home from the hospital. You can tell just how thrilled he was with that whole process.


We named him after my grandfather (Papa) Emidio and they share a birthday. We're all positive that is no coincidence. My Papa passed away when I was 4 but I'm sure he's looking out for me and my family.
As is his grandfather, who his middle name is after. I'm sure those two are up there talking and trying not to laugh, watching us stumble over the difficulties of parenthood down here.



I miss those chubby cheeks.....
But then again, 5 year old freckled cheeks are still super kissable.....


A lot of people ask me about his name so here's a little bit of info:


syll. e-mi-dio, em-id-io ] The boy name Emidio has its origins in the Germanic language and it is used largely in Italian. Emidio's meaning is 'great, strong'.

Emidio is not widely used as a baby name for boys. It is not in the top 1000 names.


My family is Italian and I'm sure the name would sound neat spoken with a true Italian accent.


As my mom has always told me, it was also a ship, the S.S. Emidio.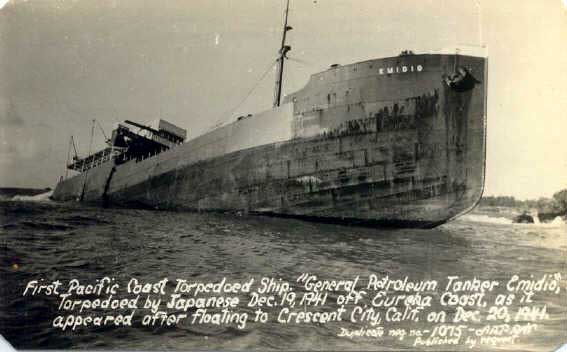 According to this site:
On 20 December 1941, 25 miles west of Cape Mendocino, the Imperial Japanese Navy's I-17 shells and then fires two torpedoes at the 6, 912-ton Socony-Vacuum oil company tanker EMIDIO returning empty from Seattle to San Francisco. A patrolling PBY "Catalina" flying boat of Patrol Squadron (VP) 44 spots the EMIDIO dead in the water with people going over the sides and getting into lifeboats.


Despite the torpedo hit, Emidio did not sink. Several days later, in fact, she ran aground on a pile of rocks off Crescent City, Calif., an amazing 85 miles north of where she had been torpedoed. The 31 survivors of the stricken ship rowed their lifeboats for 16 hours and 20 miles through a driving rainstorm until they were picked up by a Coast Guard lightship a few miles off Humbolt Bay.


I think it's neat that his name has not only a strong family connection but a history to it as well.
Today we're having some of his little friends over for a birthday party. He's requested Spiderman and Wolverine for his party. Whatever the birthday boy wants, the birthday boy gets.....
Forever Young
May the good Lord be with you
Down every road you roam
And may sunshine and happiness surround you when you're far from home
And may you grow to be proud
Dignified and true
And do unto others
As you'd have done to you
Be courageous and be brave
And in my heart you'll always stay
Forever Young, Forever Young Forever Young, Forever Young
May good fortune be with you
May your guiding light be strong
Build a stairway to heaven with a prince or a vagabond
And may you never love in vain and in my heart you will remain
Forever Young, Forever Young Forever Young, Forever Young Forever Young Forever Young
And when you finally fly away I'll be hoping that I served you well
For all the wisdom of a lifetime
No one can ever tell
But whatever road you choose I'm right behind you, win or lose
Forever Young, Forever Young Forever Young ,Forever Young Forever Young, Forever Young For, Forever Young, Forever Young
~Rod Stewart