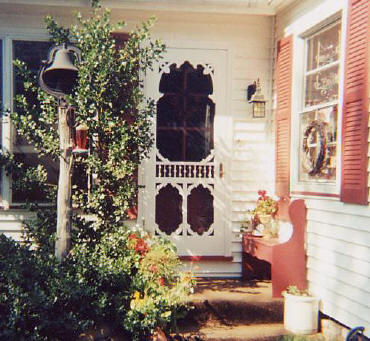 Photo: touchstonewoodworks.com
Photo: mainemade.com
Photo: buildingonline.com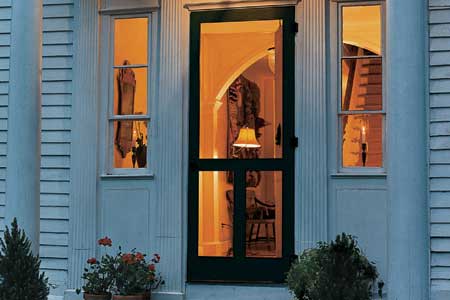 Photo: This Old House.com
We've been wanting to add wooden screen doors to our home so that the breeze can come through. We had one on the front when we moved in, a T bar style, but it ended up ripped last fall and we wanted another style. After seeing how beautiful Artie's door came out, I was really chomping at the bit. Artie has a lovely blog called Color Outside the Lines, you can read more about his door
HERE
.
The problem we had, like many people with older homes, was that our door is not a standard length. Home Depot and Lowes both had a great selection of screen doors but none that would fit. We looked into woodworkers who would make a custom door but the price was high, as expected. Since I'm way too cheap....errr...budget conscious for that we decided to make an off the rack door work.
What you'll need to do is pick the door you like and then purchase a piece of wood (we used pine). You'll also need wood glue, dowels and some clamps. Here is our door and the extra piece of wood:
Measure how much extra you need at the bottom and cut your board to size. Here it is with the dowels in. After you have your dowels in place and the holes drilled on your extra board, cover it all with wood glue and stick your extra piece on there. Hold it together with clamps until it dries and voila....the door is the perfect length!
If you have a small space between the door and your extra piece of wood, a little putty can be used to make it look seamless. Then just paint it up and you have a "custom" door for a small price.
The door we picked has a removable screen so that makes painting or staining it much easier. I still have the second coat of paint to do and I'll show you the finished product. We also have the shutters back up, mulch in place and a place to sit on the porch. It's really coming along out there and having a place to sit with a cup of coffee and a magazine is wonderful. I'll be back with the finished pictures soon.
I hope you all had a wonderful 4th! We did a little camping and watched some fireworks. The weather cooperated, all in all a beautiful weekend!