I'm so excited to finally have bedding picked out! I've been looking at bedding for a year now trying to find just the right one. Originally I found a blue and brown set I really liked but decided to go a little different with brown and this nice green. It's a little different than I normally would go for, it's good to try new things right?! The bolster pillow above is one I ordered in the green. Crossing fingers it matches in person!
And here is the bedding I chose. My parents are buying it for us as a Christmas gift. I got to pick it out so it will be wrapped up for my husband. I can't wait to see his face when he opens......bedding. Should be funny.
The picture is really small so I put a link to the site where you can view it larger. The green is really fun, definitely a change from the neutral, calm colors I usually pick out.
I'm thinking of doing a chair rail in the bedroom and painting the above a matching green and the bottom an off white. Mouldings would also be white. I was going to do picture moulding but the room is very small so you wouldn't really notice it. Think I can get away with just a chair rail and the bottom painted without the extra moulding? I'm thinking about making euro shams in a green textured fabric, as well as a throw for the bottom of the bed. Hopefully I can bring a pillow to the store and find a coordinating green.
http://www.thebonton.com/product/bed+&+bath/quilts+&+bedspreads/shelley+quilt+livingquarters.do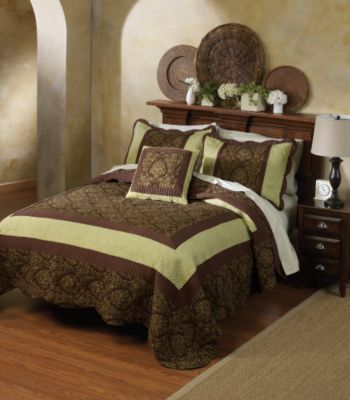 This is what our bedroom looks like now. Yes, it is really that blue in person! It was painted this way when we moved in and was a teenager's bedroom. This house is a three bedroom home but the master had its own dressing room with closet and bath. We decided to give the girls the "master suite" and we took another bedroom. Hailey has the bedroom and Ella has the dressing/sitting room. It's a great set up for them, their rooms are connected and they share the bathroom. The hall bath is larger so we are happy using that one.
The furniture is hand me downs from my parents. We painted it to make it work and I like the armoire and dresser that goes with it. I'm thinking of getting rid of this headboard and finding an old door to hang behind the bed on its side. And doing a glaze on the furniture to give it more of an aged look. There is carpet in there now we will rip up and refinish the original pine floors underneath.
I haven't decided on curtains yet and will have to do some shopping for accessories (fun!) but having the bedding is half the battle! What do you think of wall mounted lamps for next to the bed instead of lamps? I may do that and opt for smaller tables next to the bed. These nightstands are on the bulky side.